innocent bystanders:
kosta bogoievski
innocent bystanders may 02 - 19, 2018
Innocent Bystanders proposed a series of experimental encounters across Ōtautahi with The Physics Room as a central axis.
Blurring the boundaries between contemporary art and dance, performers Julia Harvie, Josie Archer, Kosta Bogoievski, David Huggins & curator Khye Hitchcock set up a framework from which examined dynamics between audience, performer, and site.
Local artists were invited to create written responses to the work.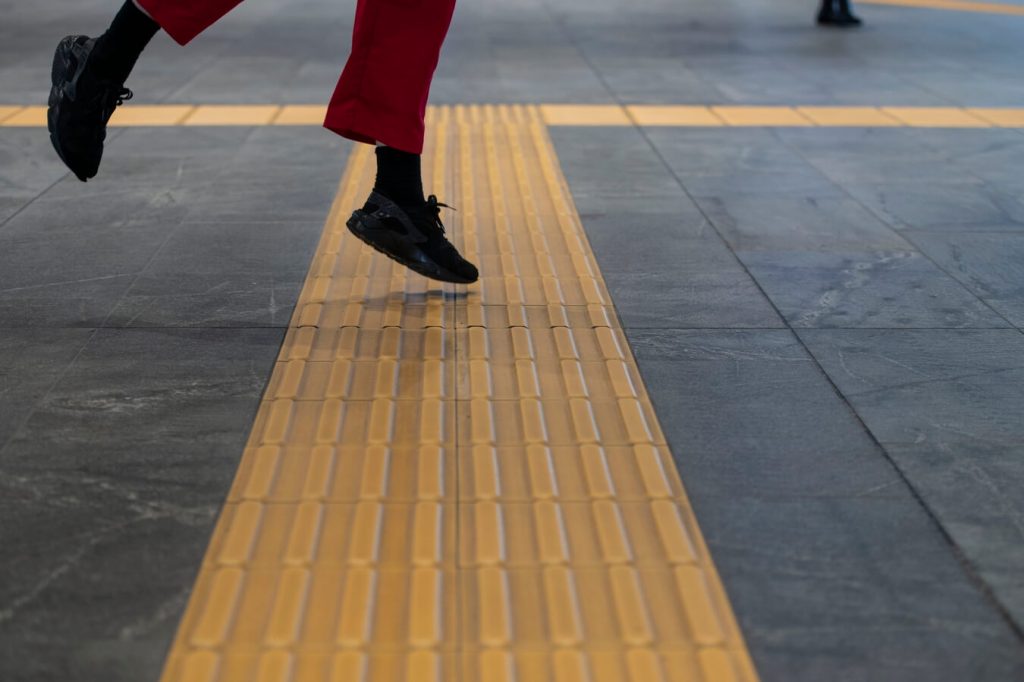 We started the project out of an interest and urgency to work with each other while we happened to be in Christchurch, which felt – and, after three months living here, still feels – like a novelty.
Julia proposed we (Josie and I) collectively apply for CNZ funding to support an improvisational dance project. Josie said we should dance outside inspired from a Footnote Choreolab workshop with Stephen Bain and Kate Macintosh.
Having worked with Paul exactly 12 months prior, during a two week development called Josie Julia Kosta Paul we established a collaborative team combining dance duos Josie&Kosta and Julia&Paul and gathered that he would probably be too busy working at UNITEC to fly down to Christchurch and work with us for two weeks during a semester period and then David became our elected fourth collaborator and performer.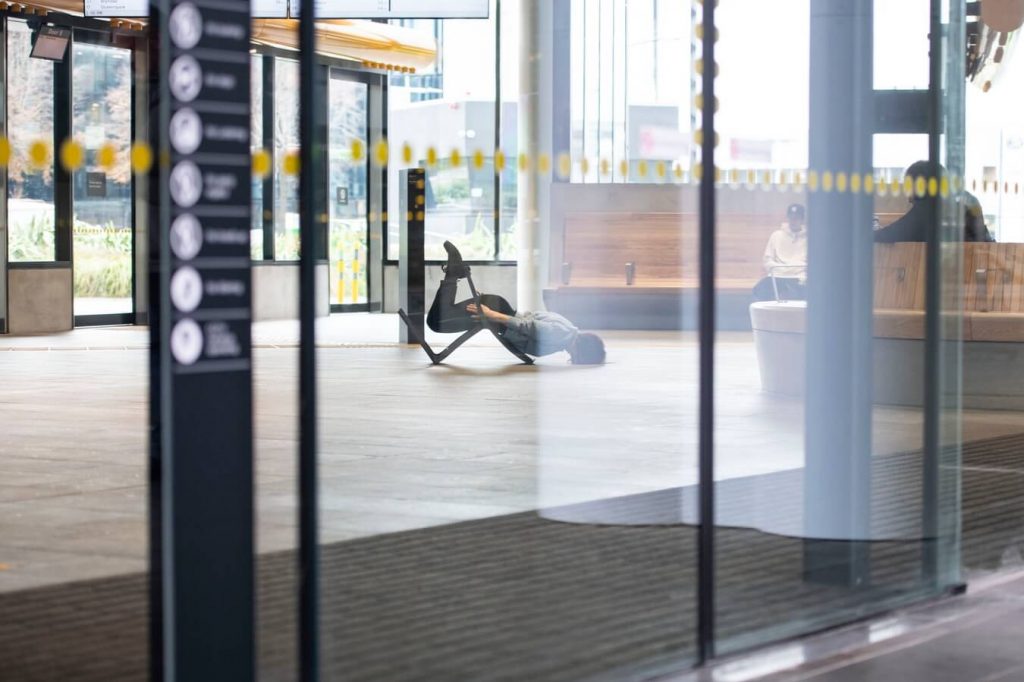 Julia, Josie, and I spent the first week in residence at The Physics Room Gallery teasing out our own individualised performance scores developed first during Josie Julia Kosta Paul and then in a 2018 Auckland fringe performance, Dance Danced Dancing (a duet with Josie), and in a one off trio performance at the COCA gallery. David, busy with prior engagements (auditioning for Yvonne Rainer), joined us for the opening of the project and the score begun with a 'mini catastrophe', a term we took from Olive Bieringa's work, The Felt Room, which is a beginning arbitrarily performed by one performer, by executing an action within reason of interpretation of 'mini catastrophe', unbeknownst to the others, until they take notice, and then the performance starts. I was elected to perform the mini catastrophe on the grounds, as was made obvious within the cohort
during a performance score discussion made before the opening, that I would most likely enact it – as my role in the project was first understood as a provocateur and later at times probably, and of my own doing, reduced to an ambivalent and annoying team member.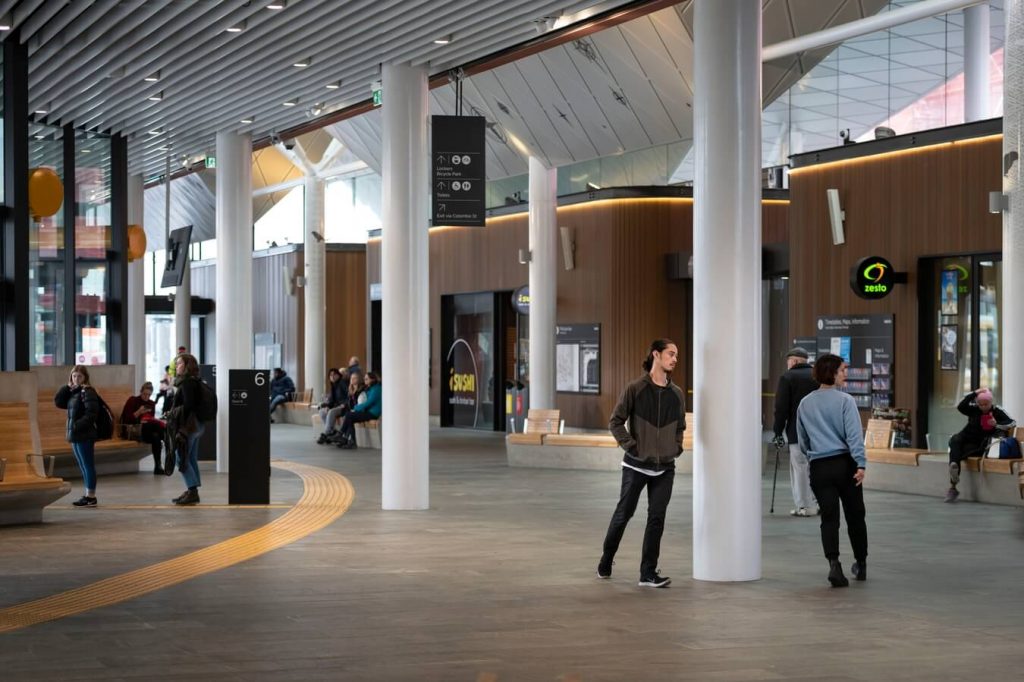 As a collective we spent our incredibly sweet lunch times gathered around a large wooden table with hummus and other snacks to make wraps shared with the volunteer administrator in The Physics Room. Khye said we went through one and a half tubs of hummus a day. We spent most of our working hours around the table while we: reflected on our two hour performances; made a personal case on our collective artistic stance and expression (if any); identified whether feelings-of-satisfaction were met; argued over tensions between the project as research vs. performance; ate food.

Research vs. performance was an unsettled tension that might have been the crux of Innocent Bystanders. Our initial idea was to develop a collective dance practice. Most of the time a performance score was made an hour or two before the site performance (from twelve to two pm). We thought of instructions that could instigate relational engagement with site, the innocent bystander, and each other. Our work in the field was a balance of compositional desire and experiential (mental, physical, and sometimes spiritual) dance. The project was uninvited and site specifically aberrant, essential to the idea and the title. Also interesting to note, and telling that our work may not be site-specific, the daily performance scores were notated, on the walls of The Physics Room, by roman numerals (somewhat jovially by Khye) and not by the name of the site. I used Diego's terminology1 when I made the declarative statement, at some point, we threw our practice into site and site was thrown into our practice.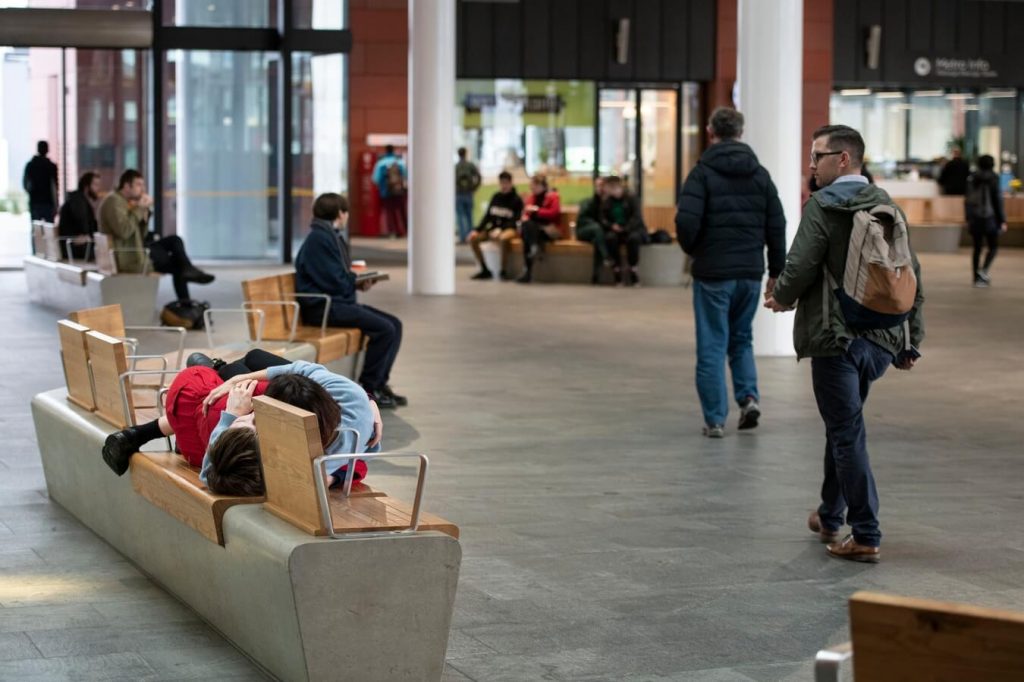 Georgie attended most of our performances, where the sites were listed publicly: somewhere on the Internet; Instagram; The Physics Room flyer. On the last day of the project, ending with a public talk, she spoke to me afterward and said her youngest son hadn't gone pee for a couple days and after drinking a litre of water was in a lot of pain and that his antsy movements looked a lot like our dancing. I laughed and thought 'contemporary dance' and then she said,
somewhat salvation-ly, like an anonymous donation would save a near done for crowd funding campaign, her son said he was 'moshing', dancing to remediate his pain!
Jamie is director of The Physics Room and Josie and I were struck by how open and kind a director could be. After the opening, it seemed like Jen, Audrey, Khye, Hope, and Jamie had cooperatively taken David, Josie, and me out for Chinese food, which was amazing – the food and the companionship.
In our last site, raining, we performed out on a big square facing the entrance to the University of Canterbury library and thoroughfare for many students during the lunch hours. The performance drew walkers-by to a standstill and sustained a large crowd, gathered mostly under the brutalist concrete canopy of the library front, for two hours. Two memes23 were created using photos of the performance and posted to the Juicy Memes for UC Teens Facebook page.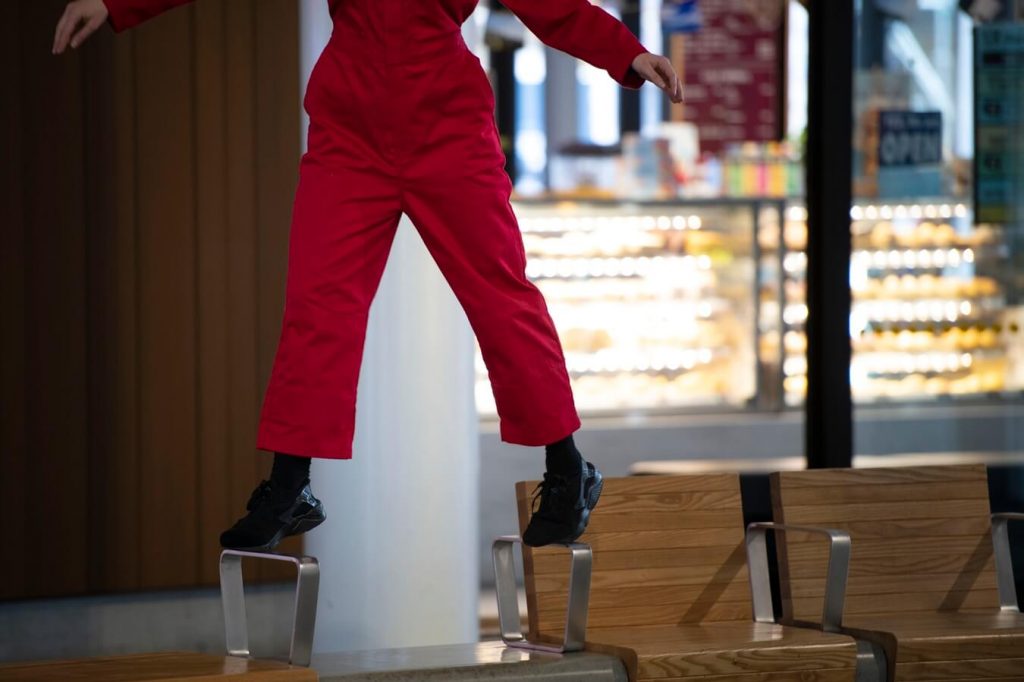 The most problematic site was the grove in the Pūtaringamotu Riccarton bush reserve. Wandering families (it was also mother's day) along the raised wooden path unmistakably came across our live performance score and we were 'aggressively ignored' most of the time, the ubiquitous behaviour of the public in most sites but none more than here, closely followed by the Te Kete Wānanga O Wai Mōkihi South Library site. Most of our time dancing was spent alone save for the presence of Khye, Georgie, and each other, which was jarringly solitary and self-serving, and depleted our feelings-of satisfaction. I had thought spiritual engagement with site, I had at one time written as a score, "dance as an active meditation of the spirit of site," and applying Jared Gradinger's 'unknown intimacy', could have been an appropriate way to find value inside a shared dance practice, as ritual or state of being, but was admittedly inappropriate against the collective creative agenda – that came in a sort of brief wind of clarity that our performance required an audience – which was still unintelligible. Josie and I surmised in the early stages of the project that our performance practice was something we did on our own and that the public would happen upon it but we felt worse performing for nobody than we did for somebody. Simply put by Josie's auntie Anne who said, 'What's the point of performing if no one's there to see it?' And I think that was because the performance series was more compositional than experiential: Framing performative decisions in time and space – if initially experientially, then ultimately – for an audience (that can include ourselves) took precedence over the other option, something else... like an intimate duet with site, which I can't describe with any more clarity because 'experiential dance' was the rivalling alternative to this project and perhaps the framework of it – something I obviously have interest in, as a dancer – is outside the framework of this project.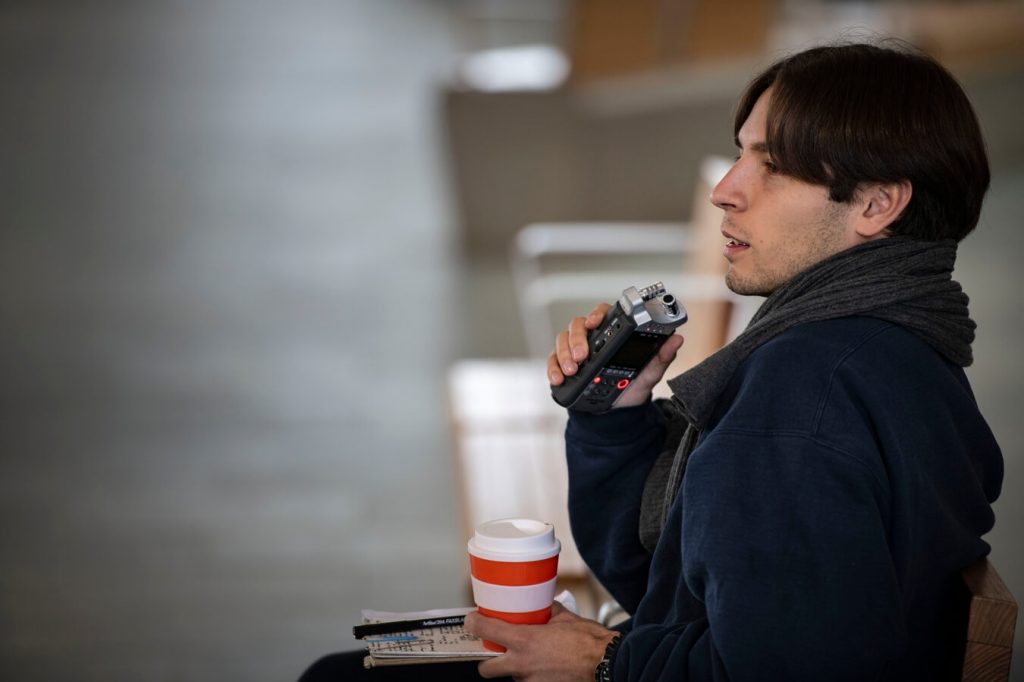 For a more experiential account of the work, below is a quick personal in-depth account of the bus interchange I observed bearing in mind that it experiments with more literary devices to defamiliarise and evoke more because I've learned from the workshopping period of this project (the first week) that deviating from the most obvious and perfunctory enactment of a prompt or instruction - to obscure using learnt dance and somatic techniques, innate qualities of the moving body, and/or/with a 'deep' mind-body understanding – can create odd shifts in ourselves, moving conscious bounds, and allows more space for new perspective, insight, discovery, and coincidence (which is either serendipitous performance magic or, what Susan Sontag calls, 'lexical inevitability').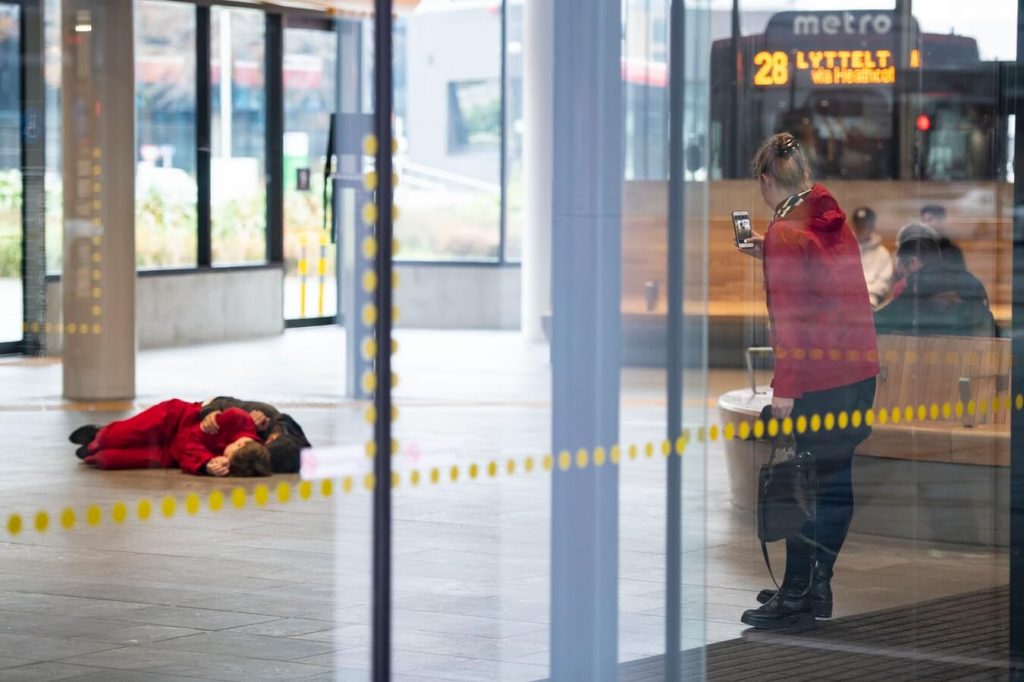 Bus interchange account as an observer of Julia, Josie, and David performing.

I followed Julia, Josie, and David around the Christchurch bus interchange at a sneaky distance but was caught multiple times, by the suspicious public, corroborating in the social deviancy. At times their compositional games cultivated a tension that gripped the public within a field. When it worked it was an apprehensible thing continually extending within mental reach, expanding spans of attentiveness. After I left the bathrooms, about halfway through the performance, the dancer's eyes were closed and I moved closer to record them – meticulously, and moving slower to affect, describing their movements – talking to themselves. They stopped experientially performing but in the outset still performing and conspired, whispering about their next group move, and I held a zoom (recording device) quite close to each of their mouths as they spoke. Then, a few moments later, when I had backed away a bit, an older man approached me and asked if this was a performance and if they were getting paid and I thought to tell him 'yes' as I considered what he might be indicating, by the rhetoric of the question, and now, looking back, asking him why he asked would have cleared some anxiety. I said 'yes' diffidently out of lack of professional confidence – inert sensitivity over the subject of employment in the arts sector or to validate receiving CNZ funding to dance in public spaces, or they're one in the same – and he said something and left.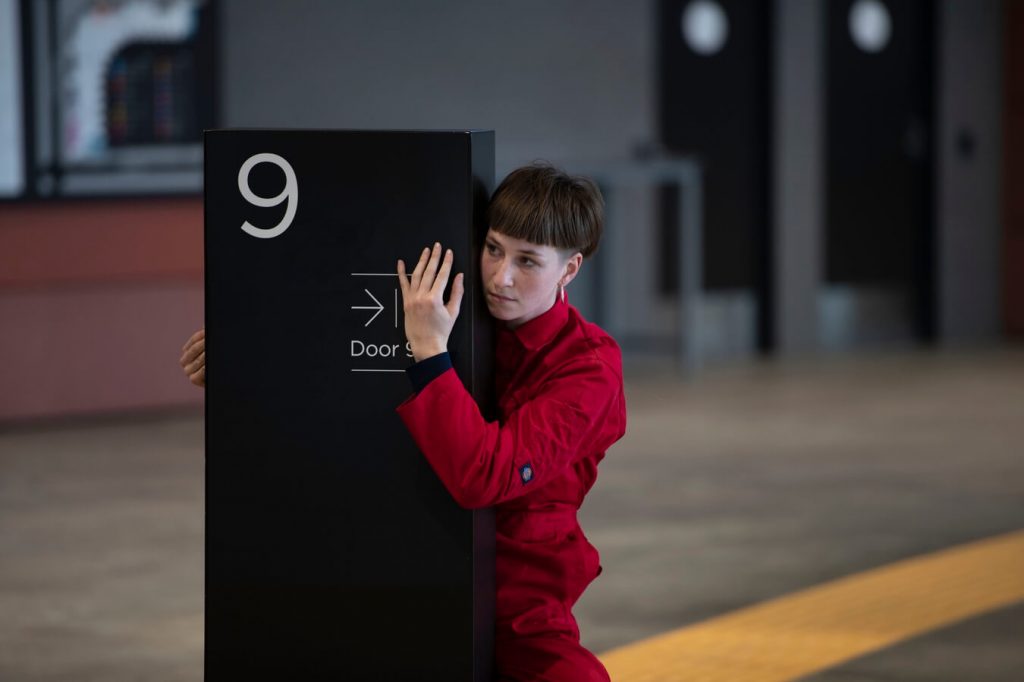 A lightly touched on subject, at the beginning and end of the project, was an idealised performance environment that gives audience members permission and space to consider they're experiencing and how they'd want to engage. I felt, from most members of the public an aversion to us, as performers, drawing attention to ourselves like the civic places of Christchurch are for people to feel comfortable being individually invisible – a thought sparked by Khye's reflection on confronting homophobia in Christchurch by dying their hair blue, pronouncing a resistance to assimilation for the eyes of the general public: performing, the alternative to hiding sexuality. When things looked more dance-y the public behaved more like a traditional audience and enjoyed the novelty and peculiarity of watching our dance, a discipline that is rooted in the theatre, situated in a civic place. I enjoyed moments where the spectacle was covert and subtle. This felt more like offering the public a chance to construct a story that we weren't pushing, compelled to stretch this further I told people vague descriptions of what was going on when asked what was going on (when usually we would explain the project and remind them to hashtag
innocentbystanders2018). This to me felt like granting members of the public agency and upholding their status as innocent bystanders. And now I wonder what there is to gain from spreading the discourse (we discussed a lot in our lunch times!) out to a shared public conscience because the story is out of our hands and we have only some idea of what others have experienced and are left with our faith in dance and support from our peers (thank you Khye, Georgie, Jamie, and The Physics Room Volunteers :).

Thank you for reading my story.