Research Exchange 2022:


Research | Writing | Performance


Now Open for proposals: 1 November
Closing: 30 November
research exchange 2020:
Distanced and Digital Dance Potentialities
By submission only.
R

esearch Exchange 2022




Research | Writing | Performance
From 1 November 2021, MAP invites artists from around the country to apply for one of four Artist Residencies held in Ōtautahi in February, April, August and October 2022. The residencies will be a month-long, providing the artists with a studio to research and develop concepts and methodologies.
Artists are required to blog during the residency, do an Instagram takeover, run a community workshop, present a research performance to the public at the end of the residency and contribute to the MAP Quarterly Publication which will be launched at their Research Performance. MAP will provide studio space, marketing and delivery of the events, an advisor, documentation, accommodation and artist fees.
Previously facilitated in 2015, 2016, and 2020, the underlying kaupapa of MAP's Research Exchange residency programme is that of 'exchange'. While the programme gives artists the resources to go deeply into their own practice and research, it is also outward reaching in that the framework asks them to articulate and share their ideas, process, and outcomes with their peers and public.
MAP is seeking project proposals across all disciplines that focus on dance, movement, and choreography, to engage, research, and develop their practice. In 2022, there is also a focus on writing as practice.
Residency Dates Available
Monday 31 January - Friday 25 February 2022

Monday 4 April - Friday 29 April 2022

Monday 1 August - Friday 26 August 2022

Monday 3 October - Friday 28 October 2022
The artist/artists/artist collectives will be provided with:
Studio access 9am -3pm, Monday - Friday

Weekly stipend of $1000

Materials budget of $500

Zoom account access for 1 month

10 hours with a Practice Advisor and 10 hours with a Theory Advisor

Office workspace with unlimited internet 10 hours/week at the MAP Studio, 76 Hawdon Street, subject to availability

If from out-of-town, travel, accommodation, and per diems can be covered within budget constraints
The artist/artists/artist collectives will provide:
One public workshop for the Ōtautahi community. Alternatively, a Zoom workshop may be held.

Research showing at The MAP Sessions upon the conclusion of their residency - this can be a performance, a WIP, a discussion, a presentation. This will also be live streamed and recorded.

A piece of writing/research submission to the MAP Quarterly publication

A blog/research journal on the MAP website for the duration of their residency

A 24 hour MAP Instagram takeover
A full brief is available below, with details of artists' obligations and research details.
How to apply:
Artists/artist collectives are to submit a proposal, biography/ies, and evidence of previous work.
Please email as a single pdf to info@movementartpractice.org
A selection panel will work with Artistic Director, Julia Harvie to make the final decision in early December, and all applicants will be notified by mid December.
Research Exchange 2020:
Digital and Distanced Dance Potentialities

In 2020, in response to the impacts of Covid-19, we invited collaborative teams to use the residency as an opportunity to explore digital opportunities for their work and practice.
This residency supported artists to share their process with their peers and the public via their MAP webpages where the artists uploaded reflections, texts, images and videos throughout August 2020; via Zoom workshops as well as taking over the MAP Instagram.
Artist showings were live-streamed 6.30pm Sunday 30 August 2020 to Youtube and we invited the public to attend live at XCHC in Ōtautahi Christchurch.
Artist Feedback from 2020:
Gulia Palladini: (Critical Theorist, Italy)
I was really impressed by the generosity, curiosity, critical acumen, creativity and care that went into this project. It is rare to encounter such a valuable engagement with artistic practice, and in these complicated times this strikes me as even more crucial, as it is vital to invent new forms for taking care of the conditions of thinking and working together!

Emma Murray (Choreographer, Switzerland)
The residency has been invaluable. My admiration for the professional and social skills, the focus and flexibility, the authentic and human qualities with which MAP helped us navigate this strange (and strangely productive) month. I know there were many involved in making all this possible - a very big thanks to them! It's been amazing - as always - to reconnect with New Zealand based artists. Despite the challenges of proximity - it was a real pleasure to share some time together. MAP - the work you do there is a HUGE asset to Christchurch and for the wider Dance Community.
Carlene Newall de Jesus (Choreographer, NZ)
This was such an invaluable time for our project and process, and a really special, meaningful experience for our young people! Thanks for making us feel so supported and for the flexibility of making everything work as it needed to across this strange month!

Katrina Bastian (Choreographer, NZ)
Thank you, Julia, for this invaluable opportunity to delve deeply into a project that has been looking for space to grow, and finally found that in the MAP community! We can't wait to see where this project goes and will keep you all up to date.
Katrina Bastian, Flinn Gendall and Fa'asu Afoa-Purcell

Follow their Webpage
'Less Sermon More Song' [working title] builds a space for dialogue around mental health in dance. This team developed a digital space centered around the mental health and wellbeing of dancers; via a website and a podcast series they began the critically important, and much overdue, work of reflecting the lived experience of dancers.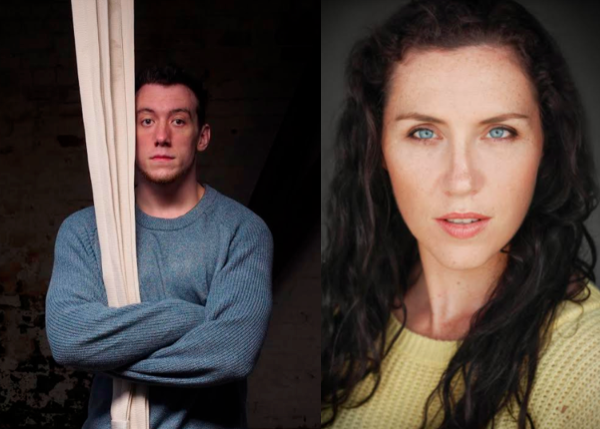 Carlene Newall de Jesus and Jay Clement

Follow their Webpage
'The Little Black Boxes' digital residency followed the exploration, conversations, and research of Carlene and Jay as Artistic Directors of HighJinx YouthCompany.
Emma Lorien Murray and Giulia Palladini

Follow their webpage
'A Live Annotated Encounter with my Archive' "questioned the porosity of the screen, which triggers a dim awareness of some kind of actual space or physicality behind the screen - a place or body you can't see but you know is there".
"There is a need not only to support dance companies but also the artists who are going to provide the dancers and choreographers for those companies in the future."
- CNZ Dance Review 2.3.1
Artist Residence
David Huggins - Blog iii
MAP research exchange christchurch artist #16 – David Huggins – Blog iii As the end of the residency draws near, my focus has also shifted to the presentation of the research. I have generated choreographic material through the GPS location process as well as the filmed improvisations, but a straight forward presentation of these does…
Artist Residence
David Huggins - Blog iii
MAP research exchange christchurch artist #16 – David Huggins – Blog iii As the end of the residency draws near, my focus has also shifted to the presentation of the research. I have generated choreographic material through the GPS location process as well as the filmed improvisations, but a straight forward presentation of these does…
Artist Residence
David Huggins - Blog ii
MAP Research Exchange Christchurch Artist #16 – David Huggins – Blog ii This week, I am rehearsing and choreographing more GPS dances that I described in my previous blog, from locations further afield. Although not a primary objective, I have found that the task is conducive to generating a large amount of raw material in…