Emma Murray Artist Residence (2016) - journal iii
I watch: the work of: Matt Claderwood and others at CocA in their current exhibition there.

http://www.coca.org.nz

I photograph: Pecarious balancing on the walk home along St Asaph street. And later that day
see it again at the Isaac Theater, watching Royal New Zealand Ballet perform In the Middle
Somewhat Elevated by William Forsythe.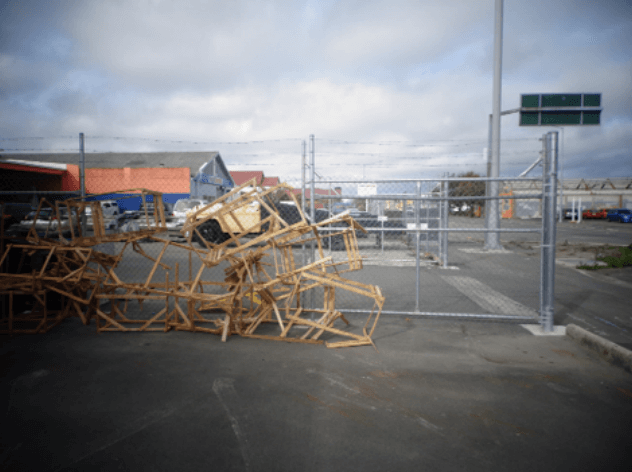 I feel: Precariously balanced in my new heels with carry on at Wellington Airport and between memories of living here, and not recognizing it all.
Especially in the sun! Sitting out looking over Breaker Bay to all the blue I've ever seen in one place, at one time.
I'm surprised: I can say it's 25 years since I was a student at the New Zealand School of Dance.

Since then it has a new name, new premises and a new breed of articulate and hungry dancers.
I'm invited to teach, and share some of my own interest in creative practice and the exchange based research I set up in Switzerland, called WORKING SESSIONS.

http://emmainbern.tumblr.com

It's an appropriate time to be there as they are half way through preparing a choreographic
season of their own.

I find myself saying: I believe in nurturing creative process to sustain the longevity and quality of an artist's creative output.
I believe there might be a way of looking, engaging with and perceiving the world - that enables an approach to creating, maybe even living - that stands apart from the idea of production, but is interested in producing for the sake of producing, and values experimentation and has everything to do with your desire, your interest, your joy.

Although I wonder if: It is just luck that still has me here, still doing this thing. And I'm asking myself for how much longer might I be able to keep at it?

Somehow I think about: Commerce meeting Art, and the pervasiveness of business language to talk about art. Perhaps the pervasiveness of 'the corporate' in general.
That word 'pitch' and the fascinating meeting of ambition, opportunity and power that rub shoulders at an Arts Market.
I think about how convincingly the artists I met at PAANZ could engage with a particular language to sell themselves, sell their work. How this demand is no different at similar platforms I've been to in Europe.

Who said: Its no wonder with a business man running the country?

Who else said: Business men and women run the world?

I champion: Wendy Houstoun's vocal protest on Facebook about the effects this language, this treatment might have on art, and on artists themselves.

I read: Bojana Kunst's Artist at Work. Proximity of Art and Capitalism.

I meet: A great group of kids at Hagley High and teach them some Ballet. Makes me think I'd like to do some more teaching somewhere similar in Switzerland.